Desire and Design: Construct Your Humanism
---
July 16-22 and July 23-29, 2023 | Hillsboro, WV
Scholarships are available!
Join Patch Adams MD, Meadow Jones PhD and the School for Designing a Society for a one week long workshop onsite at the Gesundheit Institute.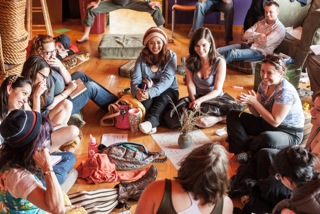 Week 1: Construct Your Humanism July 16-22, 2023, Hillsboro, WV
Inspired by environmental justice, abolition movements, water protectors, Black Lives Matter, community arts, LGBT solidarity, Braiding Sweetgrass, The Yes Men, Habrá Una Vez, Octavia Butler … and dismayed by how dehumanizing our institutions and systems can be, thwarting compassion and empathy … We invite you to a full week on the land in West Virginia to Construct Your Humanism. We'll elicit from each other descriptions of the humanism we wish to see in the world. We'll offer tools & strategize ways to put our humanism into practice. We'll share meals, walks in the woods, excursions, stories, festivities; hear guest presenters; create poetry, performance, art, action plans, friendships.
During this week Dr. Meadow Jones will offer daily AWA based generative writing workshops around the issues of Desire and Design towards Constructing our Humanism.
REGISTER HERE FOR DESIRE AND DESIGN :: CONSTRUCTING OUR HUMANISM
> Early bird payment–$800 before July 1; $1200 after July 1. Tuition includes room and board.